Breathe better
Sleep better
Feel better
Worlds first patented magnetic nasal dilators for improved nasal breathing.
Order NoseWings
Clinically tested

Effective

Comfortable

Reusable
Improved nasal breathing for a better quality of sleep
NoseWings® uniquely improve nasal breathing by using the repellent force of strong permanent magnets to dilate the nostrils. Their main benefit is to improve the quality of sleep for people suffering from a blocked nose at night. Not only is breathing through the nose far more comfortable than breathing through the mouth, NoseWings® can also help to reduce snoring, as snoring is often (partially) caused by nasal congestion. Furthermore, NoseWings® can help to improve nasal breathing during sports and yoga.
Effective
While all nasal spreaders may, to varying degrees, improve nasal breathing, only NoseWings® use magnetic repulsion to keep the nostrils open. This patented technology, combined with NoseWings® ergonomic design, delivers 2 distinct advantages over other nasal spreaders.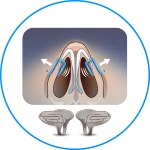 Superior comfort
NoseWings® are made of a smooth, non-irritant, medical-grade polymer. They are shaped to fit most people with little to no need for adjustment, but if necessary, they can easily be widened or narrowed for maximum comfort and effectiveness. As they are only in contact with the wings of the nose and not with the much more sensitive nasal septum, they can be used for long periods without causing discomfort. In fact, once you get used to wearing NoseWings®, you should no longer be aware of them at all, except for the increased ease in nasal breathing they provide.
Long-term reusability
NoseWings® can be used again and again without losing their effectiveness. Unlike single-use nasal plasters, or internal spreaders that can lose their elasticity over time. NoseWings® are extremely long-lasting when used properly.
Breathe better

Sleep better

Feel better